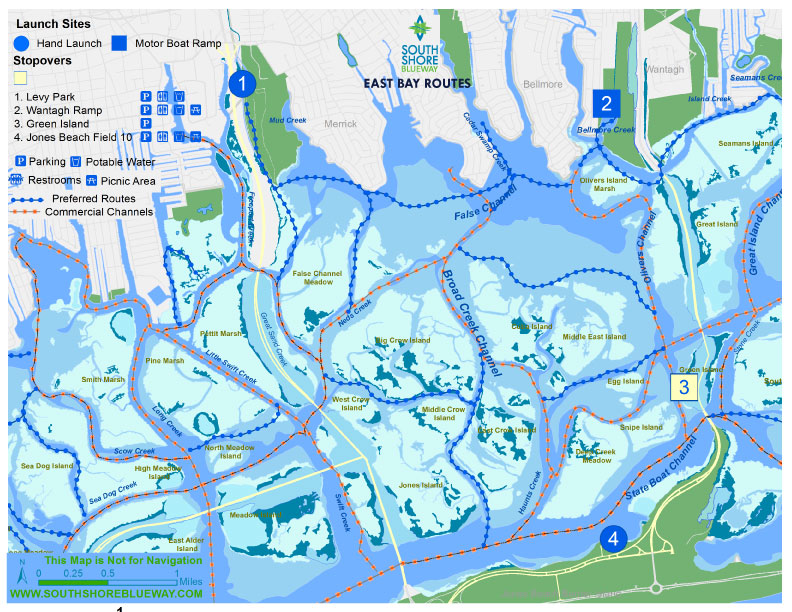 East Bay is situated between the Meadowbrook and Wantagh Parkways and bordered by the Town of Hempstead on the north and Jones Beach State Park to the south. Intertidal mudflats and salt marshes attract migrating birds. From November to May, harbor seals haul out to sun and rest on the beaches of marsh islands off the north side of Jones Beach State Park, including Deep Creek Meadow and Crow Islands. Seals are federally protected, so boaters must keep at a safe distance. Sloop Channel connects Middle and East Bay. Jones Beach Field 10 provides good access to fishing grounds and salt marsh. First, paddlers have to cross the busy motorboat traffic on State Boat Channel.
A good place for beginners to start paddling is Norman Levy Preserve, which launches into the shallow Meadowbrook and offers eco-tours where park rangers figure-out the tides making sure to return before the creek dries and is impassable. It's a long paddle from Levy to the popular fishing on Merrick Bay. Wantagh County Park boat ramp provides the best boat access, both motorized and non-motorized, on the north shore of East Bay. Non-motorized boater access is dangerous, paddlers share the busy boat ramp with trailered boats, the basin is crowded with large boats and jet skis, and the narrow passage into the basin is demanding as the bulkheaded shore intensifies currents and motorboat wakes. Once out of the boat basin, circumnavigating Olivers Island is a nice short paddle. The currents at the bridge crossing are treacherous and should only be navigated by advanced paddlers. Jet ski traffic speeds through the narrow rivulets through marshlands and can be hazardous for human-powered boaters. There is a gravel beach at Green Island, where anglers cast from the new fishing pier into the swift moving channel waters that offers a beach-resting place off a busy channel.
There is a gap in the trail on East Bay. Most of the shoreline is residential property and the public parkland has barriers to water access. The Blueway Plan recommends that Nassau County develop future access at Cedar Creek Park and that Newbridge Park, owned by the Town of Hempstead, offers the most favorable site for improving access, as well as programming opportunities for the community.