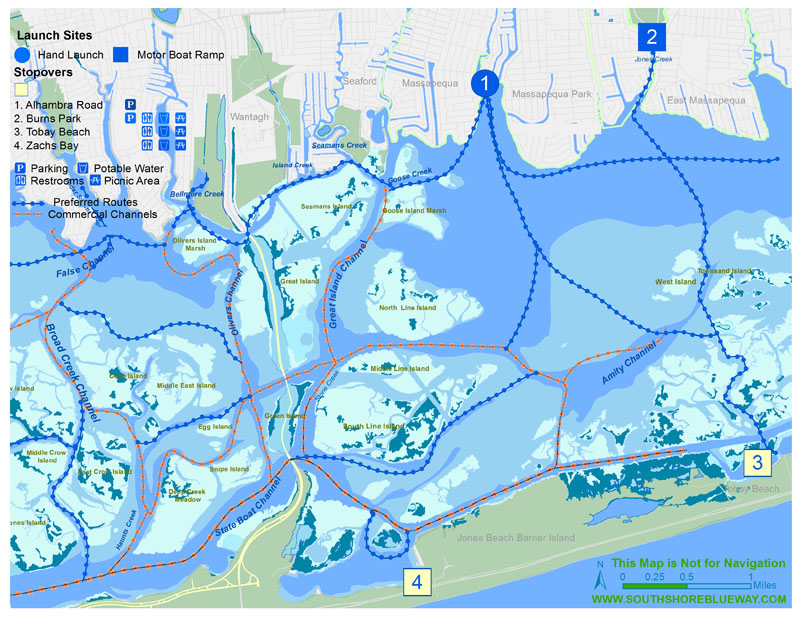 In contrast to the Hempstead Bays, South Oyster Bay is characterize by open water, in addition to tidal marshes, mudflats and marsh islands.  Extending from the Wantagh Parkway to the Nassau-Suffolk county-line, ownership of the bay is shared by the Town of Oyster Bay and the Town of Hempstead. Motorboats extensively use State Channel along the north shore of Jones Beach Island and Great Island Channel in the northern reach. There are generous fishing, scenic vistas and wildlife viewing in bay waters.
A small beach at the foot of Alhambra Road offers unsurpassed access for beginners and learners, as well as intermediate and advanced paddlers navigating across the open waters to Tobay Beach. Put-in is easy, waters are calm and there is sufficient off-road parking. Adjacent to the beach are two former marina sites, cleared and awaiting new purpose. The site offers excellent community economic development opportunity for low impact, quiet growth by developing a community boating platform for non-motorized boats and coastal ecosystem ecology programs for South Oyster Bay, and compliment the Waterfront Center in Oyster Bay on Long Island's north shore.
John J. Burns Park has a transient dock adjacent to the boat ramp that can add ADA compliant access and improve kayak access at this lovely open space, though it presents a long paddle down Jones Creek to the bay. The back barrier sands of Tobay Beach and Zach's Bay are trip destinations for swimming, dining and exploring, as well as connection to ocean beaches and bicycles trails.
In the western part of South Oyster Bay, there is a need to develop new trail access at Seamans Neck Park and Cedar Creek Park. Both sites have good potential for community programming and coastal environmental education for residents that were previously obstructed from viewing and accessing the bay. The sites are vital to the fulfillment of the South Shore Blueway Trail Plan.